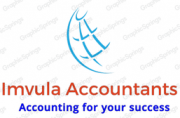 Firm
Imvula Accountants
Suburb
Pinetown | Map
Address
39 Bohmer Road, Pinetown, 3610
Languages
IsiZulu, English (in order of proficiency)
Email
Tel
0827569720
Cel
0827569720
Website
www.imvulacc.co.za
Qualifications

Mdumiseni Kleinbooi - Independant Accounting Practitioner / Tax Consultant Registered with SARS

Professional Accountant (SA)

Post Graduate Diploma: Professional Accountant in Practice (SAIPA)

National Diploma:Accounting (Durban University of Technology)

Professional
Memberships

South African Institute of Professional Accountants(SAIPA)
Tax Practitioner with the South African Revenue Services

Member of the Black Management Forum (BMF)




>Services
Accountants Fields of Specialization: Bookkeeping, BEE Certificates for EME's, Letter of Goodstanding, Tax, Payroll, Advisory, Annual Financial Statements. Accounts, Cash Flow Projections
| | | | | | | |
| --- | --- | --- | --- | --- | --- | --- |
| | Close Corporation | Pty (Ltd) Company | Partnership | Sole Proprietor | Private Individual | Trust |
| Monthly | | | | | | |
| DayToDay | | | | | | |
| Annual | | | | | | |
| Returns | | | | | | |
| Setup | | | | | | |
| Auditing | | | | | | |
| Tax Advice | | | | | | |
| Gen Advice | | | | | | |
| Payroll | | | | | | |
| Review | | | | | | |
| Software | | | | | | |
| Other | | | | | | |
Other Services:
Bookkeeping, BEE Certificates for EME's, Letter of Good Standing, Tax, Payroll, Advisory, Annual Financial Statements, Accounts, Cash Flow Projections
Latest News & Views
Imvula Accountants Based in Durban Pinetown Kwa Zulu Natal.
2017 ITR12 Income Tax Returns are due from 01 July 2017. Contact one of our SARS registered Tax Practitioners so that you can benefit from the various tax rebates available to tax payers.
2018/01 Provisional Tax is due before the end of 31 August 2017. Contact one of our Tax Practitioners to ensure that you submit your tax return on time.
Experience
Mdu has been practicing accounting from 2008.
He passed his board exam in 2012 and qualified as a Professional Accountant (SA) with the South African Institute of Professiional Accountants. He is a registered Tax Practitioner with the South African Revenue Services.
About Firm
Imvula Accountants in Durban Pinetown KZN.
Our consultants are registered with the South African Institute of Professional Accountants (SAIPA) and our tax practitioners are registered with the South African Revenue Services (SARS)

We focus on compliance for your business and producing quality professional information for your use and for third parties like SARS and banks.

Our qualified consultants have been in practice from 2008. We tailor make our services to suit each individual client as all our clients are different. Our clients range from individuals (e.g. taxpayers), as well as sole proprietors, partnerships, close corporations and companies (Pty's).

We deal with SARS, CIPC and the Department of Labour to obtain tax clearance certificates, letters of goodstanding and CIPC annual returns. We do company registrations, tax registrations, bookkeeping up to trial balances and Annual Financial Statements and Income Tax returns. We have extensive consulting on legislations like the Income Tax Act, the Value Added Tax, the UIF, the Compensation for Occupational Injuries and Diseases (commonly known as Workmen's Compensation)
Extensive experience in specific industries:
Construction, Engineering, Medical, Asset Management, Retail, Consulting

Business Practices
Accountant Average
Hourly Fees

unknown
Please request a quote for exact amounts.
Please note that this is an indicative rate and may vary according to task.
Software Supported
Pastel Partner, SARS easyfile
Number of staff
in Accountant firm
1


This Accountant has not activated comment functionality yet.


Please be sure to mention that you found this
Accountant
on www.findanaccountant.co.za!